Dollars Raised for Charity As Of 9/27/21
What is Power Word: Charity?
Power Word: Charity is a program started by Dndspeak in April 2021. Our mission with this program is to support different charities while providing you with useful, interesting content for your TTRPG game. Every month, Dndspeak will release a Pay-What-You-Want PDF and 100% of the money made from it will go to a different charity. The money will be donated to each charity on the 1st day of each month. As our TTRPG community grows, we should all recognize that we have the power to do great things when we put our heads together. 
For every $1 we donate to charity, we gain one experience point. When our Charity Level goes up, and I will release a brand new TTRPG book COMPLETELY FREE to the community. Here is our current progress to the next reward:
Here are the PDFs that were created for each charity. Under each PDF is the name of the charity that it supports and a button that will take you to the purchase page. 100% of the money used to purchase this month's PDF goes to the respective charity.
What free PDFs have we unlocked?
Here are all of the free PDFs that we have unlocked so far! Every time our Charity Level goes up, you all get a new TTRPG book, completely free. Here is what has been unlocked so far: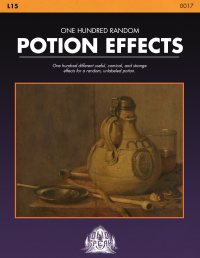 100 Random Potion Effects
What charities have we donated to?